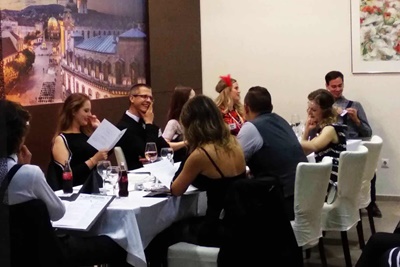 Two mafia leaders ruled the city of Palermo in 1920, with Don Fabrizio Vito in the west and Don Tony Leoni in the east.
With the death of Don Fabrizio, chaos hit his head. Until they find his killer and find out what happened, his eldest son Giuseppe initiates a mob meeting at Hotel Lupo, run by their family.
The main "business" activities of the era included the smuggling of spirits, tobacco and goods, a brothel, counterfeiting money, gambling, which Giuseppe would like to divide.
Guests include the victim's children, sister-in-law, young wife, accountant, home teacher, port manager, Madame, who runs the brothel, lord and assistant of the eastern part of the city.
One of them is the killer of Don Fabrizio. During the evening, many secrets and motives are revealed regarding the guests. What happened on the day of the murder? Why was Don Vit killed? Who will be the new Godfather?
The purpose of this exciting evening is to reveal the secrets, find the murder weapon and the culprit.